Control
documents and data
DocYard is the first real production software solution offering total document management for scan service providers and business/organizational mailrooms.

DocYard is a platform which deeply integrates every step of production into configurable workflows, controls them and allows centralized evaluation.
Maximum production integration
DocYard integrates all mailroom and scanning tasks into a single platform. Naturally, that includes your existing tried and tested components and tools.
Automated operating processes
Individual components become steps in a process. Integrating production with the DocYard platform means that all production data is logged in full, in a central location.
Reuse whatever you need
Your very first project will produce integrated modules that you can easily reuse in any other project. Every step you take with DocYard leads to lasting improvements to your production processes. The end result is a completely integrated production environment and constantly-optimized processes.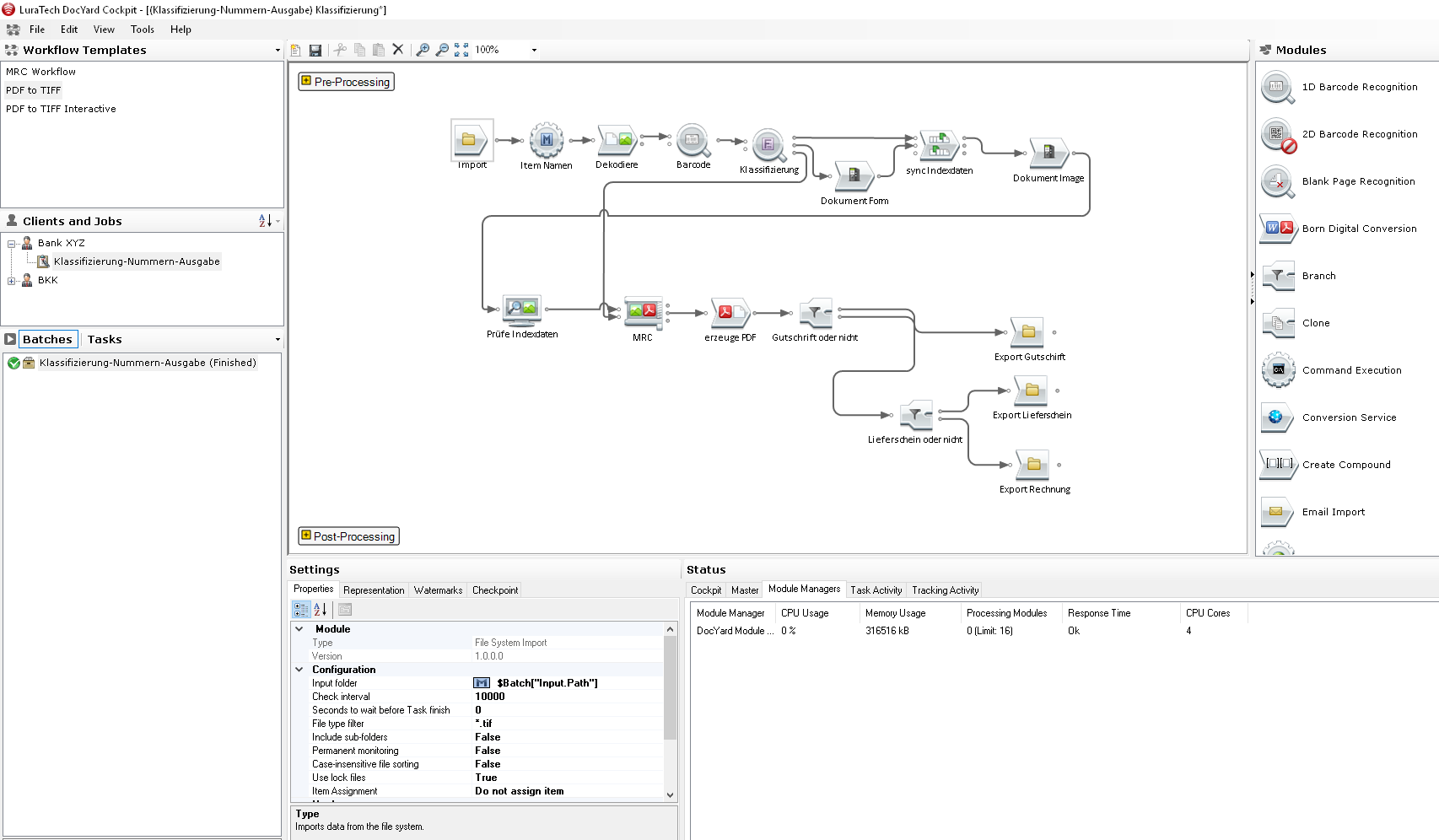 Modular design for reusability
DocYard is based around modules that act as reusable building blocks. These blocks are created by the user or are already available as complete modules for all scanning and mailroom tasks – with most of them included in the standard edition of the platform.

Once created, these building blocks can be reassembled into new workflows using a graphical user interface – without any programming required! Every project will produce new, reusable modules. The system learns, and setup times for new workflows get shorter and shorter. Instead of reinventing the wheel every time you start up again, you can focus on continually improving what you already have.

Choose the modules you need
DocYard modules can run as entirely automated processes, or represent manual steps such as QA work with a user interface. You can create your own modules or use our ready-made ones, which provide solutions for all standard scanning and mailroom tasks. This way, you can integrate existing workstations for goods received, document check-in, manual indexing, data capture, quality assurance and more.
Easily manage production data
DocYard makes it exceptionally easy to structure the customer's production data in all kinds of forms: PDF or TIFF, single- or multi-page. The same goes for index data, which can be provided in standard DMS input formats such as ELO, Easy and others, or in customer-specific XML, CSV or Excel formats. It's just as easy to add bookmarks to PDFs using index files or to connect to FTO, databases, web services and more.
Reporting and Real-time monitoring
All production and operating data is collected in full in a central location, meaning you can easily generate reports based on every step of production. DocYard includes completeness checking and service level agreement (SLA) monitoring as standard. Other reports evaluate the user's production and operating data in order to provide data for production planning, billing or accounting purposes. All jobs controlled by the DocYard system are monitored in real time to ensure cost-effective and timely document processing. This means the performance of ongoing jobs can always be improved with DocYard.
Central configuration
With DocYard, all existing production tools and resources are clearly displayed in a central location, including their capacity usage. New workflows can be configured using existing modules and resources without any programming required. DocYard's central control system allows you to dynamically reassign resources for ongoing jobs. Error-prone adjustment processes become a thing of the past as the production manager reacts instantly to bottlenecks and redistributes documents and batches to interactive workstations according to priority. Production staff have jobs pushed to them instead of having to select for themselves which batches to process.

Integrated proven Foxit technology
We naturally offer optional DocYard modules for our other time-tested, widely-used Foxit (DocYard) technologies, such as the award-winning mixed raster content (MRC) layer-based compression technology, or PDF and PDF/A output.
Fast return on investment
DocYard makes your scanning processes reliable and cost-effective while also providing outstanding quality. Because of its low setup and operating costs, DocYard starts producing a return on investment with the very first project, while significantly increasing productivity and ensuring lasting competitiveness.
Flexible licensing and cost control
Your business can change, which means the way you use DocYard can change, too: DocYard is flexible enough to meet your needs and your scope of work, meaning it's always clear exactly how much it will cost you. If your project requirements change, there's no need to invest in new software: just adjust your license package to add new features or more pages. This way, you're always ready to act and you know how much it will cost.